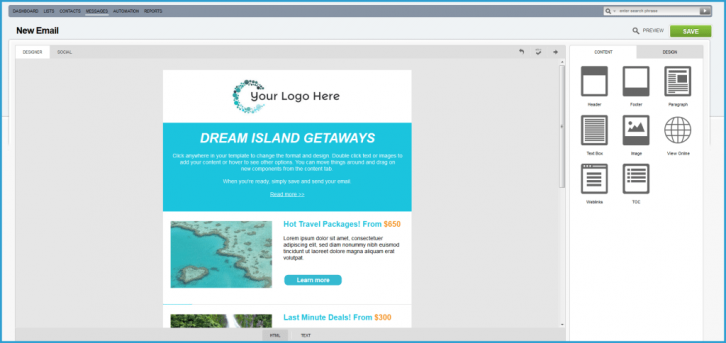 Over 70 different templates
Over 70 templates have already been created and are ready for you to use. Tailor any template to suit your campaign or create your own, its up to you. Choose from events, newsletters, notifications, surveys, media relations and sales and product enquiry templates.
Drag and Drop Wizard
Using the Drag and Drop editor, you can create and edit professional looking email with a simple click, drag and drop. It's the stress free approach to editing templates.
Preserve your templates
Always edit from the original template by placing an original copy of your work in the 'My Templates' folder. That way your hard work will go untouched and your template will be there when you create your next email campaign.
HTML Insert
If you've already paid a designer to create a HTML email template just for you, simply upload it into our system. Once uploaded you can still edit it and modify the design. The HTML view is available across all email types including the Drag and Drop templates so you can really create a customised Drag and Drop email if you like.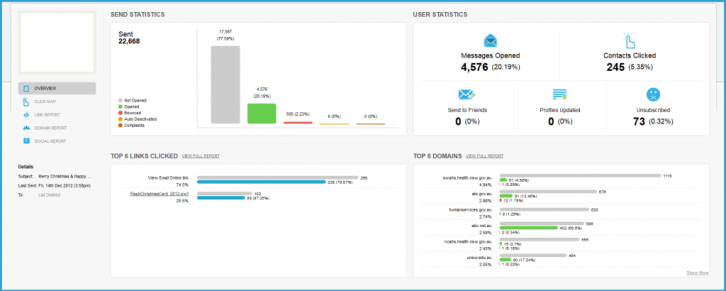 Comprehensive tracking of results
You will have access to a HUGE range of reporting metrics, so you'll know vital information including:
Exporting results
Has your boss asked you for a list of new subscribers to your newsletter? You can download a list in a matter of minutes. In fact, all data within GoEmail can be easily downloaded as Microsoft Excel CSV files.
Manage complaints
If any of your contacts report your emails as Spam, no doubt you'll want to know. Our reporting system will tell you so you can reassess your messages and manage your relationships with your contacts.
Manage bounces
After each send you can view which of your emails made it to their final destination. If a any of your emails bounced you can update, deactivate or delete these contacts. This will keep email providers such as Gmail and Yahoo very happy.

Profile your customers better
If someone clicks on a link this can be flagged in your database. This is perfect if you're keen to take note of their interests and shape your campaigns accordingly.
Create work flows
Set up work flows that trigger messages to customers over a period of time. For example, people who sign-up for an event will automatically receive an email or SMS to thank them for registering. They will then be sent a reminder before the event, followed by a survey to get their feedback after the event. What fantastic customer service! Ask about our optional 'Automation' module.
Integrated campaigns
Incorporate your campaigns into your sales process. For example, if a customer record is updated at point of sale, the system can trigger an appropriate SMS or email.
Multi channel campaigns
Automatically send an email or SMS to someone depending on an action they take (read an email, click on a link). Let the system do the work for you and send messages that are both timely and relevant.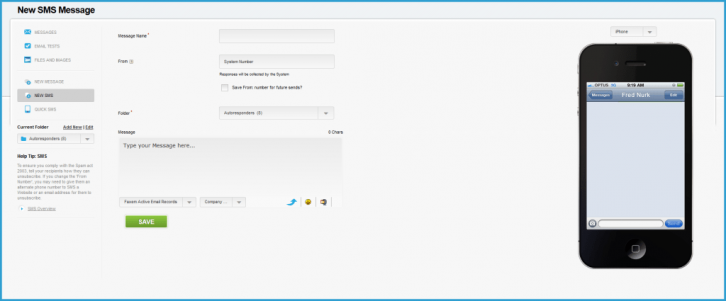 Send messages
Take a look at your messages before you send them in just the same way you would preview an email.
Send personalised text messages
Personalise your text messages to increase your open rate. For example, instead of saying just 'Hello' why not use your contacts name instead, like 'Hello Peter'.
Virtual numbers
Virtual numbers are a great way to capture contact details when there is no internet access. For example setup a competition that asks people to SMS their email and first name to 0400 000 000. The system will add these contacts to your database just like a webform.
Purchase credits in system
Pre-purchase credits to send SMS when you need to.
Receive messages
Potential contacts can even subscribe to your database or update their details via a text message. How clever is that?
Choose how you collect responses
When you think about using SMS marketing, do you visualise all the replies going to your personal mobile? If you do, you should know this; when your clients contact you via SMS (i.e. updating their details), you can choose to collect their responses via your mobile phone number or directly into your database.
Quick send SMS
It doesn't matter if your contacts details are not already in your database. For times when you need to send a quick SMS (like sending a message to staff) you can type in your message, their mobile number and hit send.

Subscription forms
Using webforms to capture new contacts is one of the easiest ways to increase your customer numbers. You can easily create and customise forms for every occasion including email newsletter subscriptions, product enquiries, event registrations, surveys and even customer profile updates.
'Send to a friend' forms
If you've got a happy customer (and why wouldn't you), let them spread the word about you by passing on your details. Our 'Send to a friend' form makes this possible. You could even run a 'Send to a friend' promotion.
Surveys
Ever wondered what your clients really think about you? Instead of hiring a focus group, let your customers tell you in a survey. Create surveys to help you collect the Information you need. Use it to target your e-messages or gain valuable feedback.
Event registrations
Processing event registrations has never been so easy! Create a web form to collect RSVP's and place it on your website or link to it from an email. Use your online form to collect contact details and billing information. Later on you can segment your database to hone in on specific information, such as attendees or no-shows.